Cove Brass Musical Director
Claudio Nold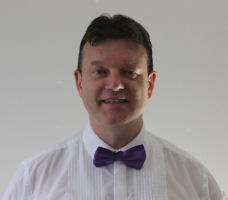 Claudio was born in 1972 in Felsberg (Switzerland) into a very musical family. At the age of 11 he started to play the cornet in the local village junior band. After making stately progress he joined the senior band at the age of 15 and worked his way up through the cornet ranks to principal cornet at the age of 22.
In the year 1992 he joined the Swiss Army as a musician and also started to play for a regional top brass band. Next to playing his beloved cornet, Claudio also developed a great interest in conducting which lead him to conduct a local brass band at the tender age of 23. In his first year as musical director, he participated with his band in the regional championships and achieved a remarkable 2nd place. After a successful spell of 3 years he left the band to concentrate on his informatics studies.
After of a break in conducting of 5 years, he took up the baton again in 2004 to conduct his local village band where he has been playing the cornet for the past 17 years.
Claudio was always actively engaged in musical committees, in band committees, writing concert- and contest reviews for the Swiss brass band magazine and was also head of the regional solo- and ensemble championships for 5 years. During this successful time, the number of performances in the yearly competition was increased from 40 to over 100.
In the year 2007, Claudio and his wife Susan decided to move to England. Shortly after the arrival in England, Claudio joined the Basingstoke Silver Band on Cornet (5 days after his arrival! Not even their furniture nor their ménage had arrived). After playing for 2 years in the band, Claudio succeeded Steve Perrett as Musical Director. In March 2015, after a successful spell of almost 6 years, Claudio left his position as MD for pastures new.
In his spare time, he enjoys playing tennis, watching films, going to the cinema or eating some nice Swiss chocolate.